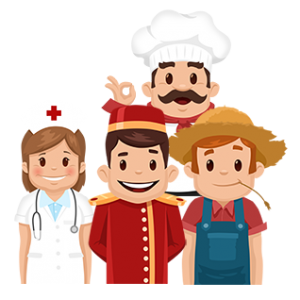 Despite the growth of internet day by day and although new ideas emerge and get implemented every day, fundamental issues still remain as problems.
How can I attract more visitors to my website? How can I keep visitors on my website for longer durations and make sure that they see and read what I want to explain? How can I establish a better interaction? How can I increase my sales? How can I make a difference ahead of my rivals and so on and so forth. This list goes on and on.
Yes, it is true that the internet is growing and developing, but people's habits and cognitive styles do not change at the same pace, on the contrary they usually remain the same. For instance, the location of menus almost does not change at all. On shopping sites the shopping cart stays always on the right. And the login, register, sign-in and sign-up buttons are usually on the upper right side.
And there are things in human nature that will take a long time to change or perhaps will never change, such as the love for cartoons and the effect of speech balloons.
It is this love of the human nature and the effect on it that Avazilla has taken as its starting point.
Like everyone else has done, you too have tried many different things on your website up to now, and could have got no yield from some of those and less-than-expected yield from some others.
Maybe is it time that you give a chance to Avazilla and try it now?
Yes. Wouldn't it be bad to convey your messages to your visitors through the warm effect of speech balloons in a more easy way by pre-setting them and winning your visitors' sympathy by presenting those to them just when they are supposed to appear?
Now let us admit this. How many of us read all the written stuff from the beginning till the end when we are looking into a product, service or something else on the internet? Aren't we skipping hundreds of important details when we just glance through it instead of reading the whole thing?
Whereas, wouldn't it be nice if your website's virtual assistant Avazilla would emerge from a corner of the screen and explain those important details that we skip in a speech balloon?
For instance, "Hey, do you know that we have a free delivery offer for this week?"
Or,
"Did you notice that we have this product in red colour also? And it's even cheaper. You can see that as well by clicking here."
Yes, those examples above can be infinitely produced in different ways in accordance with your website's content and with the messages that you want to convey.  This is why we are saying "Your Avatar is You."
Moreover, Avazilla is easy to use. Just like it does not require any expertise or even elementary knowledge of coding, it is compatible with your website no matter what its type of coding is.
Via the administration panel of Avazilla, you write and set whichever messages that you would like to convey on each page of your website. There you can choose your Avatar, and according to your needs and choice set the parameters, such as timing, colours, repeated shows and alike. Whenever you like, you can suspend a campaign that you have previously set or you can customise it. Its responsive aspect renders Avazilla convenient for use on all mobile devices and tablets as well. Another important aspect of Avazilla is that it supports all languages.
When you use Avazilla and see the increase of interaction (and consequently the increase in sales) on your website, and also see the dramatic decrease in the bounce rates of your website and in the number of support calls, you too will not be able to do without Avazilla anymore like its many users. In that respect, we are confident in our claim that Avazilla will soon become indispensable for the new-generation websites, or in other words, it will become a Standard.